Equilibrium Tri-Zone Impact Sports Boots (Hinds)
Product Description
The Equilibrium Tri-Zone Impact Sports Boots are a tough, durable boot specially designed for high impact sports such as cross country, racing, hunting, hunter trials, driving and polo. Independently tested in a safety laboratory for their ability to withstand concussion and penetration whilst remaining lightweight, flexible and breathable.
Breathable four-layered protection system to prevent overheating legs
Soft pillowed lining comfortably moulds around the horse's leg.
Extremely lightweight, they actually float on water
Safety tested in a laboratory to evaluate protection levels (this laboratory also conducts safety testing on rider body protectors and hats)
Easy to wash and quick drying
Size Guide
Tri-Zone Boots

Centimetres

Inches

Small

S

18-20

7-8

Medium

M

20-22

8-8.75

Large

L

22-24

8.75-9.5

Extra Large

XL

24-26

9.5-10.25

HORSE Size

H

21-24

8.25-9.5
Materials
Each individual layer in the Tri-Zone Impact Sports boot is researched and sourced for their advanced technical properties and tested in an independent laboratory before it goes anywhere near a horse's leg.
EVA (Ethylene-vinyl acetate) is a material which is tough and flexible even at low temperatures. It has a number of uses in various different states and forms including in ski boots, bicycle saddles, hockey pads, wakeboard boots and shock absorbers in sports shoes.
The inner layer is made from a soft impact absorbing EVA which is formed into pillows to provide maximum comfort. This inner layer is perforated to allow heat to evaporate from the horse's skin.
The middle layer is made from an EVA mesh which helps to absorb impact but also allows heat to escape freely from inside the boot.
Strategically placed integral TPU strips form protective panels to protect the most vulnerable areas of the horse's leg.
A robust outer layer is made of hard wearing Rotex for high abrasion resistance.
Additional outer strike pad areas are made from tough TPU to protect from penetration injuries.
More Information
Equilibrium Tri-Zone Impact Sports boots were created following many years of research and development.
Leading the way in equine leg protection, Equilibrium questioned the way traditional boots were designed and searched to create an alternative to the old style tough, heavy boots commonly used to protect legs in high impact sports such as cross country.
Equilibrium sourced materials known for their advanced technical properties and scientifically tested them for their ability to withstand concussion and penetration without adding an extra weight, overheating the leg or restricting the horse's natural movement.
The result is a tough, highly protective boot that is lightweight, breathable and flexible suitable for high impact sports yet comfortable enough to use for any discipline.
Horizontal straps and an additional vertical Velcro strap provides a secure fit to prevent them coming loose even in wet or muddy conditions. A handy grip tab means boots can be quickly and easily removed.
Equilibrium's easy one size fits most horses from 15hh to 17.2hh.
They are very easy to, wash, quick to dry and versatile enough for an array of activities.
The preferred choice of many top international event riders including William Fox-Pitt, Sam Griffiths and Jock Paget.
Testing
As riders, we protect our most vital areas (head and torso) with riding hats, body protectors and more recently air jackets. Rider protective equipment is subjected to extensive testing to meet standards and regulations and we believe that as a vital part of your horse, protective boots for your horse's legs should undergo a similar testing process.
Tri-Zone Impact Sports boots go through a unique 3-phase testing process giving you confidence that you are choosing the best leg protection for your horse. Materials are carefully selected to provide maximum protection but without being bulky, heavy and not make your horses legs hot and sweaty. Each individual layer in the Tri-Zone Impact Sports boot is researched and sourced for their advanced technical properties and tested in an independent laboratory before it goes anywhere near a horse's leg.
What is the Testing Process?
Testing Phase 1
In the same laboratory that test standards of riding hats and body protectors, Tri-Zone Impact Sports boots are safety tested to their limits for their ability to withstand concussion and penetration whilst remaining lightweight, breathable and flexible.
For concussion and penetration the testing is carried out using a custom made test rig consisting of a tower from which either a blunt hammer or a cutting blade is dropped onto the boots in a controlled fashion. The weight of the blade and hammer are fixed and different forces are applied to the boots by varying the height from which they were dropped onto the boots. Boots were hit with forces ranging from 1.25 to 20 Joules. These forces were chosen as being those likely to occur in the horse during exercise, for example when hitting obstacles or over-reaching. Equilibrium used a carrot at 5 joules to replicate the soft tissue in a horses' leg hitting an obstacle.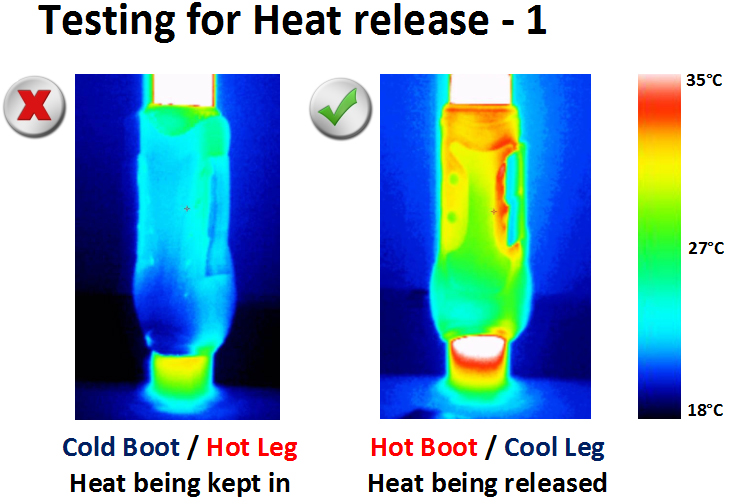 Equilibrium test boots to measure how well the boots allow heat to escape in order to reduce the risk of tissue damage.
Research has shown that when tendon cells are heated to 48°C for 10 minutes approx, 80% of them die. Equilibrium use several different methods to assess heat release from boots. The heat release is estimated by fitting the boots to a metal flask containing water at 45°C in a room at 20°C with no significant radiation. The surface temperature of the boots is measured using a thermal camera. The hotter the outside surface of the boot, the more heat has been allowed to escape.
If boots are constructed of inflexible (i.e. stiff) material or if boots are applied too tightly, they have the potential to restrict joint movement and cause other problems such as tendonitis. Stride characteristics and performance could also be affected. Boots need to allow as much freedom of movement as possible without compromising on their primary function of protection. Equilibrium test boots to make sure that they do not restrict the horse's movement whilst still exceeding protection requirements. An 8cm x 1m steel pipe is set up secured to a workbench. The boots are fixed to the pipe and a 10kg weight is attached with a clip on the boot and the downward direction measured. The degree of flexibility is measured by how much the boot bends.
Adding even small amounts of weight to the end of the leg in the form of a boot significantly increases the effort the horse must make to run and can also alter the stride characteristics. Some boots can double in weight if the horse is being exercised in the rain, on wet ground or going through water. This can seriously affect stamina and performance. Equilibrium design and test our boots to minimise water absorption, excess weight but without compromising on protection.
Testing Phase 2
The boots then undergo trials by an extensive tester panel of horse owners and riders who test them for the fit, comfort, ease of use and washing to ensure Equilibrium have not only a safe product, but one that people can easily use and trust.
Testing Phase 3
Finally the boots go through the rigorous test of being used all day, every day on busy competition yards by teams of professional riders. The Tri-Zone Impact Sports boots are worn either at home or at competitions by an array of Olympic riders, world champions and top producers.
Returns
You are welcome to return your item for refund within 30 days of purchase (excluding underwear and made to order products). The item should be in perfect condition and complete with the original packaging. Please note returns and exchanges on Ariat Clothing and Footwear are FREE*! (*On Full priced orders over £75 only). Please see our returns information for full details on sending your item back to us.
Delivery
Standard Delivery
We use DPD and occasionally Royal Mail services depending on parcel size. For standard UK delivery (Free on orders over £75) Please allow approx. 2-3 working days for dispatch and 2 working days for delivery (total 5 working days). For full details please visit our delivery information page.
Express Delivery
For Express UK Delivery please order qualifying items before 2pm and select this delivery option at the checkout to receive them the next day.
In Store Collection
Local to us? You can also arrange to collect your items in store. Once you've placed your order, you will be emailed when we have the item(s) ready for collection. Delivery Services are selected at the Checkout.
Oversea Stockists & Custom Made Products
Please Note: Some products may take longer to deliver due to where our stockists are based (overseas etc.)/ or if the product has to be custom made. This will be noted specifically on the product or will reference to the Delivery tab. These products will vary in time depending on the brand/ product. If you would like more information on delivery time on a specific product, please visit the Contact Us page or use the 'Need Help?' tab to submit an enquiry form.
Product Features

Colour: Black
Features: Ventilation
Size - Horse Wear: One Size


Write the first review

Unavailable
Home Delivery
UK mainland delivery from £4.95
Collect in Store
This item is available for collection.
Hassle Free Returns
For more information please click here.
People who bought this also bought...
---
---
---
---