---
Mark Todd Buckle Protector
This revolutionary Mark Todd Rug Buckle Protector helps to protect the horse's chest from the buckles at the front of the rug rubbing or causing discomfort. It is made of cotton with a polyester fill and is machine washable.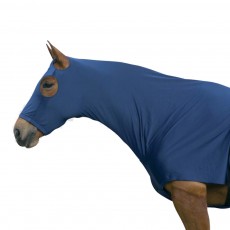 Mark Todd Stretch Hood With Zip
The Mark Todd Stretch Hood With Zip is made from durable stretch fabric, this hood has an easy to use zip closure with an elasticated surcingle and hook and loop fastening. It is ideal for head shy horses where getting pull on hoods is difficult. Great for keeping plaits neat and tidy or just keeping the mane clean.