Griffin Nuumed HiWither Half Wool Numnah (General Purpose)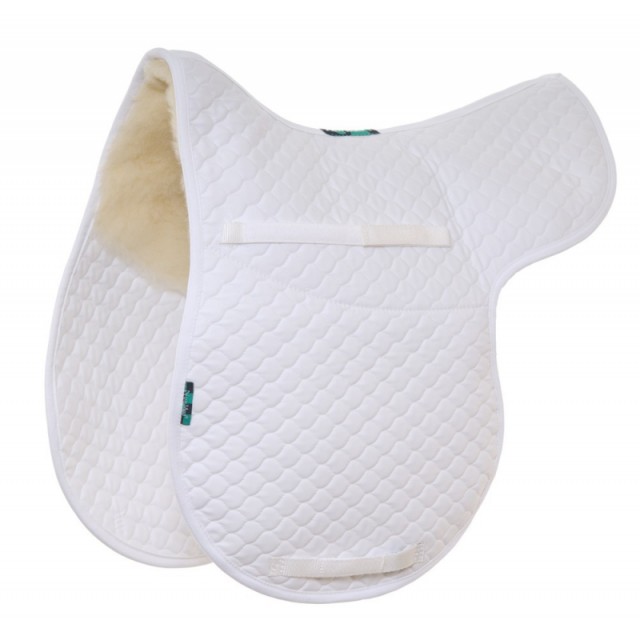 Griffin Nuumed HiWither Half Wool Numnah (General Purpose)
Superbly shaped, very versatile, lightweight and smart, this popular numnah is suitable for a host of activities. Made with our Lightweight wool over the horse's key pressure points offering good levels of protection, while allowing the rider close leg contact.
Black, brown and white come with self coloured wool.
riffin NuuMed use only British Wool, a natural fibre, which is soft, warm and strong. These qualities work well in many situations,
as whilst it is robust and resilient, it is also comfortable and practical.
Here are some of the reasons why using a NuuMed wool numnah on your horse is so good.
Its all from the UK. We know where it has come from and what processes it has been through
It's renewable as our wool is taken from live sheep.
All NuuMed wool is of a consistent length as, once the wool has been knitted onto the cotton yarn backing, it is shorn to the length required. This is important for a horse's comfort as saddle fit can be affected by inconsistent thickness of materials.
It's natural and works in harmony with a horse's skin.
It's very comfortable for a horse. Wool is naturally elastic so it moves and remoulds around the horse as it moves. (If you take a handful of NuuMed wool, squeeze it and then open up your hand, the wool will spring back up - just like the wool on a NuuMed numnah works.)
Its has fantastic water vapour evaporation qualities, which along with its ability to hold over 30% of its own weight in moisture before it feels damp, leaves a horse feeling far more comfortable for longer.
It's structure - masses of softly curled wool fibres - hold loads of 'crimps' or microscopic air pockets which allow the air to move around and the water vapour to be released - again helping to keep a horse as comfortable as possible.
It helps reduce temperature fluctuations in the horse's muscle because it warms up and cools down slowly thereby reducing the risk of muscle injury.
It is very hard wearing. The make up of wool fibres mean that it is able to stand up to consistently hard work for many years. NuuMed wool numnahs and saddlepads are renowned for their longevity - which also makes them excellent value for money.
It's very easy to keep clean and look after. Wool is fully machine washable and you can wash your NuuMed numnah every day if you wish.

UK delivery available from FREE
You can also...
print this page
send to a friend
enquire about this product
write a review
share this link