---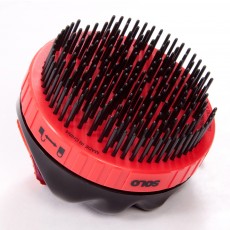 Solocomb Solobrush
Brush, Twist and Clean! Brush: The malleable bristles glide through hair and massage skin. Twist: Hair will drop from brush - no more picking hair out from in between bristles. Clean: Twist back again and begin brushing. The contoured handle with a Velcro strap stays firmly in your hand. A groom and a massage in one!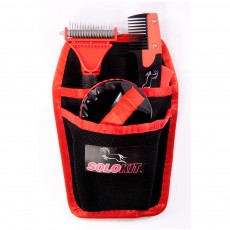 SoloComb Solokit
A holster containing the SoloComb, SoloRake and SoloBrush. This simple, distinctive, light clip-on holster can sit in a grooming kit then slip on to a waistband, belt or pocket, enabling the owner to work on the horse or pet without the need of bending to change tool or losing kit whilst working. Purposely designed to carry the Solo range and keep them together. Contains: 1 x SoloComb, 1 x SoloRake,...
---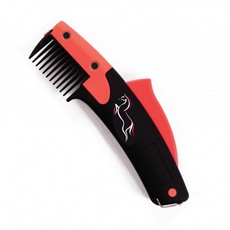 SoloComb
The SoloComb has been described as being amongst the most humane inventions within the equestrian industry and has been endorsed by the world's professionals and vets. The SoloComb is the original humane grooming tool. It is ergonomically designed and fun to use. It contains top quality, precision-engineered hardened stainless steel blades. This ingenious comb is designed to shorten and thin hair by...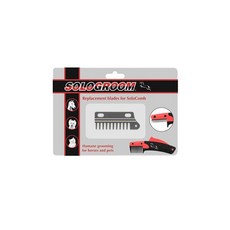 SoloComb Replacement Blades
If the blades are not cutting properly check that the screws are secure and have not worked their way loose during use. This could cause hair to become trapped in between the blades, giving the impression that the blades are blunt. Remove the blade cover and blades and clean away any hair that has become trapped. Refit the blades and blade cover ensuring that the screws are firmly and securely tightened.
---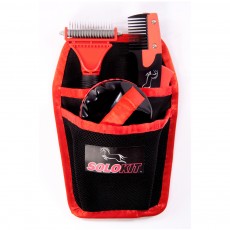 SoloComb Solo Holster
SoloComb Solo Holster is a handy holster to wear on a belt. Holds the SoloComb, SoloRake and SoloBrush. (Brush, Comb and Rake not inclued)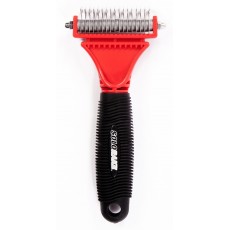 SoloComb Solorake
A unique, double headed grooming rake. As you comb a horse's mane or tail, the rake easily removes hair. ideal for shaping, finishing, thinning and creating a hand stripped look. Rounded tooth combs lift coat evenly for clipping and scissoring, removing tangles and dead undercoat.