About Us
About Wychanger
Hello! Thank you for choosing to visit our website, here is a bit of information about us below - if you have any further questions, please dont hesitate to get in touch by clicking the contact us link below.
We are proud to be one of the UK's leading equestrian retailers, and pride our tradition of providing high quality products, excellent levels of customer service and exceptional value for money.
Wychanger is well known for its saddlery roots, having been based and running in the Devon/Somerset area for the last 25 years! Roy and Jeanette Male have owned Wychanger now for 10 years, and in this time the business has grown and flourished into new areas of the equestrian industry. Our most noteable new area of business in the last 10 years has been at shows. We are now one of the biggest show unit retailers in the country, attending around 28-30 shows every year, including all of the UK's major equestrian events, such as Badminton Horse Trials, Burghley Horse Trials, Horse of The Year Show and Olympia. You can find a full list of our up-to-date calendar by Clicking Here.
We are very proud of our show unit, and the ethos of this arm of the business is the same as that for the rest, which is to provide our customers with the best possible brands and premium quality products possible whilst also giving the best customer service we can at the same time. Our customers are extremely important to us and our whole team endeavours to assist our customers in both a professional yet personal manner at all times.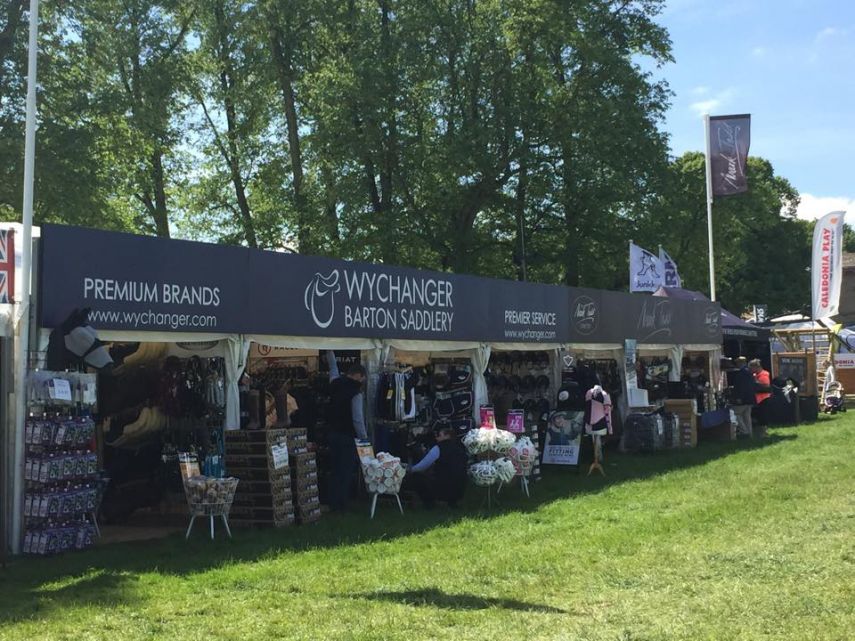 Another area of the business which has seen tremendous growth thanks to our team back at the shop (near Tiverton, Devon) is the Website. This growth has seen the arrival of our fantastic (well we like to think so), fully responsive new website and we are working hard to give you the most up-to-date, user friendly shopping experience possible. If you have any feedback or ideas that will help us in this area then we would love to hear from you!
Whilst still being a family run business, we now have an ever growing team of staff who are ready and waiting to help you, almost all equestrian enthusiasts just like our customers so have lots of personal experience and knowledge to assist you and answer any of your questions.
Thinking of Shopping With Us?
Just some of the benefits of becoming a Wychanger customer;
Save money with regular special offers on many leading brands
Experience a friendly, helpful and knowledgeable sales team
Enjoy Reliable and efficient delivery service to home or work
Touch and feel our products at one of 30 shows nationwide
As a valued customer of Wychanger, you can buy from us in 4 different ways, via our Show room in Devon, via our catalogue mail order line, via our website or through our Show Unit across the UK. See Events & Shows for an event near you.
If you would like more details on any of our products and services, please contact us today or see our website for more information.
Contact Us
We would love to hear from you. You can contact us by phone or email and full details are given on the contact us page. Click here to contact us.
Work for Wychanger
to find out about any job opportunities, please email enquiries@wychanger.com.
Price Match Guarantee
Wychanger is committed to providing you with the very best service and value on all our products for horse and rider.
We constantly watch the prices of our competitors to make sure that we offer you the very best prices available.
If you find a lower price from any BETA retail member on a new identical item, simply show us the lower price and we will match it at the time of making your purchase. Please note that we don't match on sale or clearance items where discounts have been applied by other companies or on delivery charges. Price match purchases must be made by phone.
Which items does Wychanger price match?
Almost everything we sell. The item must be identical including model number. The item must be in stock and available for purchase at that price from a BETA retail member, who we reserve the right to verify.
Happy Shopping!
---