---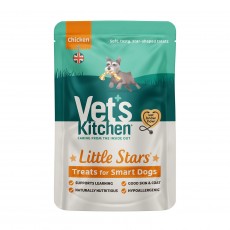 Vet's Kitchen Little Star Dog Treat (Chicken Smart+)
A fun, healthy way to reward any dog. They are semi-moist so are easily breakable and great as a training aid. Smart+ treats contain a single source of protein, using 38% chicken and have added DHA to support brain development in puppies and cognitive function in older dogs.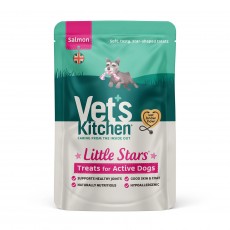 Vet's Kitchen Little Star Dog Treat (Salmon Active+)
Delicious treats for dogs. These hypoallergenic treats are made with a single source of protein - salmon. In addition, they also contain glucosamine, chondroitin and MSM supplements for healthy joints. Easy to break, these semi-moist treats make an ideal reward.
---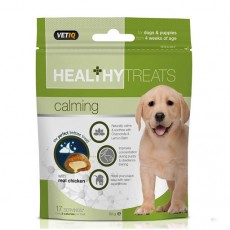 VetIQ Healthy Dogs & Puppy Treats (Calming)
These scrumptious treats calm and soothe puppies to help reduce anxiety during stressful situations, including settling into a new home, training, travel, grooming, staying in kennels, separation anxiety and noise phobias. An ideal treat for reward-based training as they can help to improve concentration during puppy and obedience training. Contains lemon and chamomile, with a chicken flavour.