---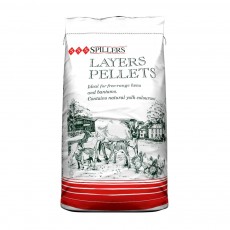 Collect Only
Spillers Layers Pellets (20kg)
Spillers Layers Pellets are full of nutrients and provide a healthy balanced diet for your hens. Spillers Layers Pellets, Spillers Home range Layers Pellets provide a complete, nutritionally balanced feed for poultry to ensure good lay and health of your poultry. This feed provides all the vitamins, minerals and natural nutrition needed for a good sized egg with a natural golden yolk colour.
Collect Only
Wadswick Mixed Corn (20kg)
Mixed Corn is a nutritious mixed corn treat A quality mixture of whole wheat and cut maize for feeding as a complementary scratch feed to poultry.