---
Acavallo Gel Out Seat Saver (Black)
The Acavallo Gel Out Seat Saver is a seat saver with a big difference. The Gel Out helps give secure and stable seat and minimises bouncing on a big moving horse. It can also improve control and safety on a naughty horse. Unique shock absorbing qualities of Acavallo's therapeutic gel are well known Breathable gel construction supports the rider's upper body Significantly reduces concussion...
Acavallo Lightweight Gel Pad (Black)
The Acavallo Lightweight Gel Pad is a great pad that has been used directly on the horses back or between numnah and saddle. It is very popular within the showing world as it is very good at stopping saddles from rolling side to side. Helps stop saddles slipping up the neck and slipping backwards Can be cut with a pair of scissors for smaller saddles to allow you to get the perfect fit Active...
---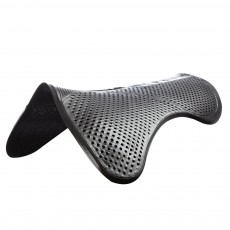 Acavallo Shaped Gel Pad (Black)
The Acavallo Shaped Gel Pad is the ultimate anti-slip pad on the market. Therapeutic Anti-slip pad Italian Gel Shock absorbing Use on the skin or between the saddle and numnah Non-Toxic and Hypoallergenic Can be cut to size