---
Mountain Horse Ladies Sovereign Paddock Boot (Black)
The Mountain Horse Sovereign Paddock Boot is a beautiful short boot, and its main features include; Premium selected, supple quality leather with beautiful shine & finish. Exceptional High Density™ outsole. Grip responsive ripple zones for increased performance. ShockX™ Advanced Insole. Ergonomically designed cushioning footbed. Durable genuine YKK® zipper. Integrated tempered...
Mountain Men's Horse Protective Jodhpur Boot
Protect your feet with this Mountain Horse Protective Jodhpur Boot featuring a steel-toe-cap , ideal for professionals, students and owners Steel-toe-capped Meets highest protective footwear standard Ideal for professionals, students and owners Full-grain leather Also suitable for riding
---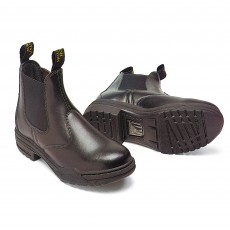 Mountain Men's Horse Stable Jodhpur Boot (Black)
The Mountain Horse Stable Jodhpur boot is a versatile and comfortable pull-on riding boot for all activities around the horse. • Durable, breathable & long lasting full grain leather • Soft and shock absorbing removable insole • Outsole with shock absorbing capabilities - reduces impact from walking/riding • Moisture-absorbent Taibrelle™ lining • Completely round-stitched...